Reasons Why You Should Own a Toyota 4Runner
SUVs provide the perfect combination of a family car and a truck or van all rolled into one neat package. If you are considering the purchase of an SUV, know that few achieve the same level of name recognition as that of the Toyota 4Runner. The 4Runner, which experienced its first release in 1984, is an excellent choice if you are in need of a mid-size SUV. In fact, there are plenty of reasons why you should own a 4Runner if you don't own one already.
Durability
When you think of an SUV, the first thing that comes to mind should be durability. Fortunately, the Toyota 4Runner delivers on the promise of high-quality and durability that you would want and need in a vehicle. From its initial release all the way through to today's newer models, the 4Runner is a tough cookie that is capable of taking a beating both off-road and on.
The 4Runner is so durable, in fact, that it placed third on a list of the top ten vehicles known to last the longest in the United States. When you purchase a vehicle, whether new or pre-owned, you have to take into consideration that it is a significant investment. A car can cost thousands of dollars, even if you find a cheap used SUV. When you spend that kind of money on transportation, it only makes sense to want something that will last, which is what you get with the 4Runner.
The 4Runner is currently in its fifth generation, which is impressive enough in itself. If you would like to purchase a Toyota 4Runner, whether new or used, you should head down to Liberty Cars and Trucks. Their inventory continuously changes, but you are likely to find a 4Runner that best suits your wants and needs.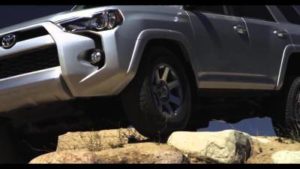 Performance
For as long as SUVs have appeared on the market, large five to seven-passenger crossovers often reign supreme with regard to inventory. You are likely to find only a handful of mid-size SUVs. Despite that fact, mid-size SUVs offer incredible performance benefits, particularly the 4Runner. They offer the ability to plow through deep snow just like a full-size crossover, and they handle potholes and rough terrain like a dream.
Part of what makes the 4Runners such an optimal choice and a high-performance vehicle is the fact that is an SUV that is also, in part, a pickup truck. It features a roomy interior no matter the generation you choose. The spacious interior allows you to haul your belongings as you would with a truck. The 4Runner also offers decent towing capabilities, which is similar to a decent pickup truck.
It is a quiet, reliable vehicle that is more than able to deliver the performance you want and need in a new or pre-owned SUV. Although the 4Runner does have competition, there are plenty of reasons to opt for this rather than the other choices on the lot. For starters, you gain the benefit of high-quality performance at a decent price, and that includes new and used purchases.
Qualities
There are many qualities that you can enjoy with the 4Runner. As previously mentioned, it is both a mid-size SUV and a pickup truck of sorts. In fact, the very first generation of 4Runners were essentially trucks with a removable canopy made of fiberglass that made them look like an SUV. If you happen to purchase an older model 4Runner, you may enjoy this benefit for an SUV to truck conversion. Of course, each generation offers its own unique qualities you can appreciate.
The second generation 4 Runner did away with the removable canopy and instead integrated a full steel body that increased its ruggedness and durability. Coil spring rear suspension systems provide a smooth ride no matter the terrain. Whether you prefer conventional on the road traveling, or you are an off-road junkie, the 4Runner is made to keep up.
The third generation 4Runner resembles more of the qualities of an SUV and less of the qualities of a pickup truck. You will find improvements to the chassis and a much better fuel economy. Also, the third generation 4Runners come equipped with the Toyota Star Safety System, which includes features such as:
• Vehicle Stability Control
• Traction control
• Anti-lock brakes
• Side torso airbags located on the front row
• Side curtain airbags located on the front and rear rows
• Brake assist
• Electronic brakeforce distribution
Fifth, or present generation 4Runners features a more modern body style with different trim options. You can also purchase the newer 4Runner as a Trail Edition, which comes equipped with Toyota's very own Kinetic Dynamic Suspension System.
Overall, no matter the year of the 4Runner you choose, you are sure to find features that you enjoy. Visit Liberty Cars and Trucks today to see up close and in person why a 4Runner is such a highly recommended choice.
Fun Fact
The 4Runner is available as either a 2-wheel drive or a 4-wheel drive, both of which offer a standard 270 horsepower. Also, all newer 2016 4Runners have projector beam headlights along with rear LED lamps on the back. The 2016 model is also capable of towing a trailer that weights up to a max of 5,000 pounds. If that isn't interesting enough, take into consideration that more than 90% of 4Runners purchased within the last 10 years are still running strong on the road today.
Accolades
The Toyota 4Runner is an award running vehicle and with good reason. In 2016, it was among the top 10 for Best Resale Value. It was also named SmartChoice Retained Value by IntelliChoice in 2016. According to Edmunds, the 4Runner has a 4.6 out of a 5-star rating. Kelley Blue Book has it listed as holding a 9/10 rating based on the following ratings:
• Value – 8.9/10
• Reliability – 9.4/10
• Quality – 9.1/10
• Performance – 8.7/10
• Styling – 8.9/10
• Comfort – 9/10
With such great ratings and awards, the 4Runner is hard to beat, which is why you should beat feet and head to Liberty Cars and Trucks to check out their deals on available 4Runners.
Customer Testimonials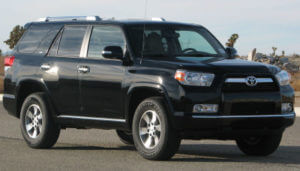 Customer testimonials for the 4Runner are as follows:
Andrew Blomquist – "Absolutely love my new 4Runner. It is off the charts in terms of reliability, durability, and pure function; this truck can go anywhere and do anything. Don't let reviews about poor handling sway you – this handles, accelerates, and drives fantastic for the type of vehicle this is: a body on frame truck. For anyone looking for superb reliability, great style, and a vehicle that can go anywhere under any circumstance for 15+ years, this is for you."
Cherokee Jewell – "This has real off road capabilities. Before you had to build a vehicle with locking differentials, and then you lost highway manners. With this you look forward to driving it to Church or the mountains. I find myself driving this over the Lexis around town, all the amenities I need. Great Bluetooth and navigation system, quiet ride. I have always owned 4 wheel drive vehicles and will keep my CJ 7 for hard core trails. This vehicle is a perfect match for me."