Nissan Quest – A Solid Purchase Decision
The Nissan Quest is more than just your standard minivan. It is a top-notch vehicle that offers plenty of amenities for parents who are always on the go. It was first introduced in 1992 and is now in its fourth generation run.
If you are looking for something that provides room for the whole family plus additional baggage, you need a Quest. Call or stop in at Liberty Cars and Trucks to check out their current inventory. They are likely to have a Quest in stock that meets or exceeds your wants and needs.
Family-Friendly
When it comes to a family-friendly vehicle, the Quest is an excellent choice. It features sliding doors that make it easier for children to climb in and out. You will quickly find that the sliding doors are far simpler than traditional car doors when you have children scrambling to both enter and exit the vehicle.
The Quest also provides you with plenty of cargo space. No amount of groceries, sports gear, or luggage is too much for this minivan. Unlike older vans, you do not have to remove the seats out of the Quest. You can conveniently store the seats in the floor so that you have more room for whatever you need to haul.
The Quest offers so much room, in fact, that you have more than enough space for multiple car seats or booster seats if necessary. No longer will you have to listen to your children fuss about being on top of one another while riding in the back seat. You can finally enjoy peace of mind since everyone will have more than enough space to stretch out and sit comfortably.
Newer models of the Quest also feature a DVD entertainment system so you can keep passengers, particularly children, entertained for those long trips. Theater-quality sound and an 11-inch monitor ensures that all back row passengers can both see or hear a move. The screen also accommodates gaming system inputs.
Style and Performance
While there are those that feel the first two generations of the Quest had subpar performance and stylization, the third and current generation prove otherwise. The Nissan Quest has made incredible leaps and bounds over the years to bring to you a minivan that has as much style as it does performance. It features a bold exterior look with plenty of interior refinement.
It also features an incredibly smooth 6-cylinder engine with a continuous variable transmission that gives it the performance that you will want and love. In fact, it has such remarkable performance that it often stands out from the competition as the leader of the pack.
For Everyone
The Quest has a unique style to it that makes it suitable for everyone. Whereas you might look at a standard minivan and automatically call to mind the soccer mom image, the Quest is accommodating whether you are a parent or not.
Hassle-free functionality and a sleek cabin design ensures that this minivan provides something for everyone. Whether you are a single man or woman or a parent looking for something with plenty of room, the Quest is sure not to disappoint you.
Safety Features
When you are out shopping for a vehicle, you often look through a list of factors that help you make your final decision. Among the most important factors you consider is safety. Safety should always be at the front of your mind, especially when choosing a car, truck, or van.
Fortunately, the Quest has plenty of security features that you are sure to love. Safety ratings provided by the IIHS are as follows:
• Roof strength test – Acceptable
• Side impact test – Good
• Moderate overlap front – Good
• Rear crash protection/head restraint – Good
Security features you will find located within and throughout the Quest include:
• Child seat anchors
• Stability control
• Traction control
• 4-wheel ABS
• Emergency brake assist
• Engine immobilizer
• Front, rear, and third-row airbags
• Remote anti-theft alarm system
• Tire pressure monitoring
Of course, these are just some of the many safety features you can enjoy when you purchase a Quest. If you would like additional information about the Quest and its safety ratings, talk to a professional dealer at Liberty Cars and Trucks today.
Fun Fact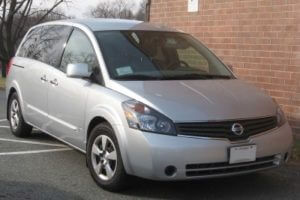 Originally the Quest was part of a joint venture between Ford and Nissan. The joint venture was abandoned in 2000, and Nissan continued to improve upon the Quest in the following years. Additionally, the Quest is often used for free airport escort service at the Beijing Nanyuan Airport as well as the Beijing Capital International Airport.
Testimonials
According to U.S. News, the Quest holds a rating of 7.8/10, making it a rather excellent purchase consideration. Reviews and testimonials for the Nissan Quest are as follows:
"With its luxurious interior and unique exterior styling, the Quest is a nice upgrade from the standard minivan fare, without sacrificing practicality." – Kelley Blue Book
"With innovative styling, an upscale and uniquely arranged interior and lots of clever features, the Quest may be the best minivan choice for those who dread the idea of owning a minivan." – AutoTrader