Used Dodge Charger in Phoenix
The Dodge Charger was originally released in 1964 and is among the most well-liked muscle car models to have entered the American vehicle market. The production of this car continued until 1987 when the company ceased making the Charger line. Nevertheless, the Dodge by this time had evolved into a more economy hatchback coupe, more like the Dodge Omni. By 2006, the Charger was re-introduced to the motor vehicle markets, much to the pleasure of muscle car fans of America. The new Charger was still a power car with the option of a standard model and a road and track performance, souped-up version.
The Dodge Charger remains in high demand, and muscle car enthusiasts will find a great collection of used Charger in Phoenix.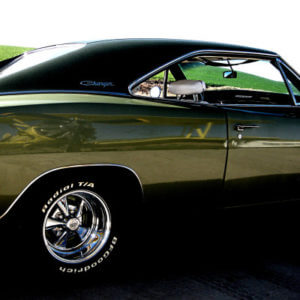 Top Reasons to Buy a Used Dodge Charger in Phoenix
Muscle cars lovers find it hard to resist a used Charger in Phoenix for many reasons. Whether new or used, the following are some of the top reasons why when looking for your next vehicle acquisition, you should buy a used Dodge Charger in Phoenix.
Styling - The Dodger Charger delivers on an aggressive presence and owners of this muscle car are impressed with the style of the vehicle. Additionally, buyers of a used Dodge Charger in Phoenix will boast about the front end treatment on the car. There is no doubt the Dodge Charger carries an unmistakable style characterized by sharp angles and curves that scream muscular.
Safety Features - Despite its sporty and "need for speed" appearance, a used Dodge Charger in Phoenix is well-equipped with safety features you will love. The more recent used Dodge Charger in Phoenix models come with anti-lock disc brakes, rearview cameras, front side airbags, blind spot monitors, forward collision warning systems and much more. A used Dodge Charger in Phoenix might be built for speed, but it is also built to be a safe motor vehicle.
HEMI - A muscle car is not complete without the sound and acceleration that a buyer expects. A used Dodge Charger in Phoenix delivers on this. Whichever of the V8 engines that you choose with the Dodge Charger, you will fall in love with the sound and speed power of the engine.
Infotainment - The more recent models of the used Dodge Charger in Phoenix comes with Uconnect infotainment unit. This larger touchscreen feature is easy to use and is definitely among the top reasons muscle car lovers will choose a used Dodge Charger in Phoenix. If you are not impressed with that, then you will definitely enjoy the dynamic audio system.
A used Dodge Charger in Phoenix will deliver on style, performance, and utility. Consider these features when shopping for a used Charger in Phoenix.
Fun Facts About a Used Dodge Charger in Phoenix
Here are some fun facts about the Dodge Charger that you can share with another used Dodge Charger owner in Phoenix:
-The charger is American made by Chrysler but is sold under the nameplate of Dodge.
-The first Charger came to the American market in 1966 to compete with the then Ford Mustang and also the Plymouth Barracuda.
-In 1969 some 69,000 Chargers were sold, but in 1978, the Dodge Charger had a total of 2,800 sales.
-One of the most popular Charger of all time is "The General Lee." It is a very recognizable model worldwide because of its role in a television series called "The Dukes of Hazzard." The spectacular stunts required for this show resulted in the destruction of at least one Dodge Charger per episode.
These fun facts can make great conversation topic the next time you meet up with another owner of a used Charger in Phoenix.
Used Dodge Charger in Phoenix - The Awards
Any used Dodge Charger in Phoenix is a vehicle of performance and quality. It has enjoyed numerous awards over the years.
In 2015 and again in 2016, the Dodge Charger received the ALG Residual Value Award. This award identifies vehicles that stand out from the competition in quality, long-term dependability, and a strong desirability. This is good news for you if you are looking to buy a used Dodge Charger in Phoenix. The residual value will ensure that you enjoy the high performance and style of the Charger for a very long time.
Used Dodge Charger in Phoenix - The Reviews of other dodge Charger Owners
A salesperson can tell you a lot about the features of a used Dodge Charger in Phoenix, the prices, and benefits. However, only a Dodge Charger owner can give you first-hand insight on the performance of the vehicle and why they love it.
The following are testimonials of Dodge Charger owners; we were able to pull from the internet. As a future owner of a used Dodge Charger in Phoenix, you should find these reviews very useful.
Benji Smith - Dodge Charger Owner ( SXT 4dr Sedan AWD) "I love this car, it has 19000 miles on it and it is running strong, the only bad this is that I warped my rotors, but that is my fault lol. The gas millage car is awful, but when you get on the interstate I get 32 miles to the gallon! I had to give the car to my mom because of multiple speeding tickets and was tired of paying fines. I love the car will defiantly get another one when I get out of the military."
Charmira - Dodge Charger Owner (SE 4dr Sedan) "I was an owner of a 2006 dodge charger and loved it. In the course of owning my car, I was involved in three serious accidents where three individuals hit me. I not only walked away from each accident, but my charger kept going. The very last accident which was the 4th one involved my 18-year-old son and his three friends. They were rammed on the passenger's side by a drunk driver. The car was completely mangled and totaled, but my son and his three friends walked away uninjured. When I got the insurance money the only logical choice was another charger. I was also pleasantly surprised at what my 2006 charger appraised at. My 2015 charger is beautiful it gets a lot of attention, its fast it's all those things it's supposed to be. Honestly, I could care less about the aesthetics and speed. What I do care about is that car saved us many times. When my son was hit by the drunk driver, the responding officer was surprised no one was injured. I'm just grateful that we still have American companies that still care about Americans and their safety. I am a Charger fan for life."
The Dodge Charger currently enjoys a 4.6 out of 5-star rating on Edmunds.com. The Charger also scores 7.6 out of 10 with Kelly Blue book and 8.3 out of 10 with U.S. News Best Cars. The stats don't lie; a used Dodge Charger in Phoenix is a great investment and a good choice for you and your family.
Choose Liberty Cars and Trucks for Your Used Dodge Charger in Phoenix
At Liberty Cars and Trucks, we carry a wide selection of used cars and models to meet the needs and preferences of our clients in Phoenix. If you are in the market for a Used Dodge Charger in Phoenix, then you have come to the right place. Our sales and customer service team is ready to provide you with information, quality service, and excellent after-sale support.
Don't see the model that you want? Don't worry! Our dedicated team will source and make available the Charger of your choice. Come in today or call to schedule an appointment. Your Used Dodge Charger in Phoenix is waiting for you.