Ford F-150: Best Selling Truck
The Ford F-150 is a well-known truck and often the first pick for many truck drivers, particularly American truck drivers. For thirteen generations, the F-150 has proudly dominated the field and with good reason. The first generation F-Series first hit markets in 1948. From that point on, the F-Series Ford pickup became a popular choice in both name and capacity.
View Our Ford F-150 Inventory >>
Safety
Safety has long been a primary concern for Ford manufacturers. The 1987 series F-150 received a serious overhaul that implemented new and improved safety features, such as antilock rear brakes. The addition of antilock rear brakes made this truck top-notch choice since Ford was the first to include this feature on a standard pickup.
In 1994, the F-150 underwent safety upgrades yet again, which included the addition of a driver's side airbag, beams in the side door, and a third brake light located in the high center. With such amazing safety features, the F-150 was more than just your average work truck. It became a daily driver for many looking for power, hauling capabilities, and safety all rolled into one nice package.
Features
Over the years, the F-150 has offered a wide range of features. Ever since its initial realize in 1948, Ford continued to update the pickup to accommodate the wants and needs of truck drivers throughout America. By continually redesigning the F-150, Ford managed to produce a pickup truck with a broad range of incredible features.
Features that you will find with the F-150 include:
• High-strength steel frame – contributes to the fact that the F-150 is stronger and approximately 700 pounds lighter than previous versions
• 12,200-lb. max tow rating – newer full-size version of the F-150 can tow a larger capacity than ever before
• 3,720 lb. payload capacity – carry more in the bed of the truck with a greater payload capacity than just about every other full-size pickup in its class
• 19 city/26 hwy/22 combined – offers the best gas mileage of any full size truck within the same class
• Highest safety rating – the 2016 F-150 is the safest of all F-150 models ever released according to safety ratings delivered by IIHS
• Rust free – military grade aluminum panels on the body help to prevent unnecessary rusting
With so many fantastic features to appreciate, you have more than enough reasons to check out an F-150 today. Head over to Liberty Cars and Trucks to ask about the current inventory and ask about a test drive.
Fun Fact
The Ford F-150 is perhaps the most popular pickup truck in America. In fact, it is the best-selling truck and has been for the last 39 years in a row. Out of those 39 years, the F-150 was the best-selling vehicle for 34 years. In fact, it is said that Ford produced more than 780,000 F-Series pickup trucks that left the factory.
Awards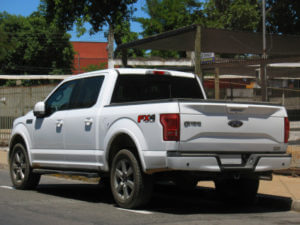 The Ford F-150 has received several awards over the years. In 2015, the F-150 won the North American Truck/Utility of the Year as well as the 2015 Motor Trend Truck of the Year. From 201 to 2016, the F-150 won the Best Value in America award. Other awards received by the F-150 include:
With so many awards backing it, you have every reason to head to Liberty Cars and Trucks to test drive an F-150 today. A professional dealer can assist you in finding an F-150 based on their current inventory. You are sure to find one that best suits your wants and needs.
Testimonials
As it currently stands, the F-150 is a crowd pleaser. It is, without question, a highly recommended purchase for anyone looking to purchase a full-size truck. It features an overall rating of 4.4 out of 5 stars thanks to plenty of customer reviews and a variety of other factors. For instance, the F-150 has a 5 out of 5 rating for features and accessories. It has a 4.5 out of 5 rating for body and interior quality.
If that isn't enough, the F-150 also holds a 5 out of a 5-star rating on nearly every safety and security feature rated by NHTSA. For instance, frontal barrier crash rating, side crash rating, and side barrier crash rating all have 5 out of 5 stars. The overall rollover rating category is the only one to have less with 4 out of 5 stars.
With so many great customer reviews, it is no wonder the F-150 has such great overall rating.
"I ended up buying the 3.5 Ecoboost. I was skeptical at first because of actual fuel mileage reviews. My trip home, IMI showed my average at 23 mpg at 65 mph. Then it shows I'm getting 16.9 driving in the city. So far I am extremely pleased…The truck runs and rides great too!"
Michael Jagiello – 2016 Ford F-150 Owner
"My 2016 Ford F150 Supercrew FX4 King Ranch has all the bells and whistles a man could ask for. The safety features really come in handy, especially the adaptive cruise control on the highway. The massaging and air conditioned seats are very helpful on long drives. The 3.5L EcoBoost engine is not as fuel efficient as one might expect, however, the horsepower and torque curve feel endless. The prices one pas for these trucks (the sticker price on mine was almost $70,000) are high, but that is to be expected when you cross an F150 with a Lincoln."
Richard Cronkwright Jr. – 2016 Ford F-150 Owner